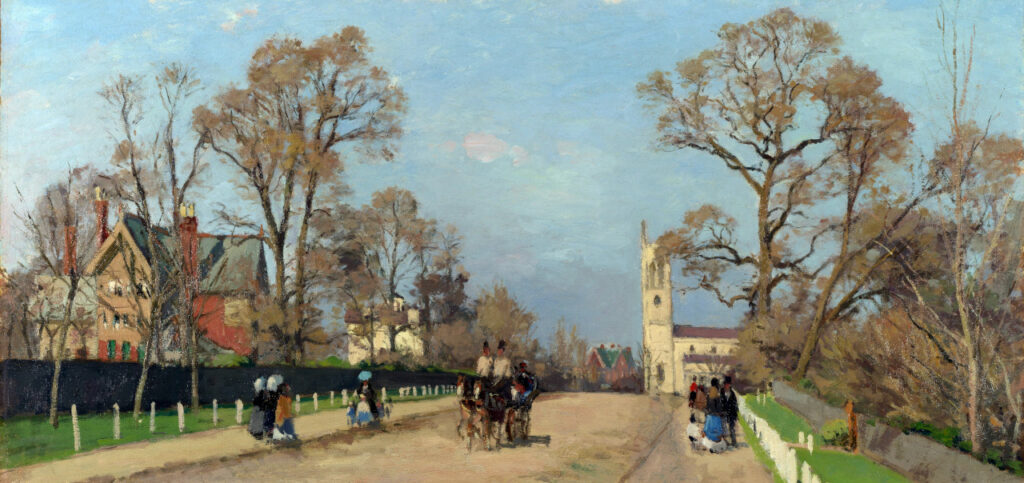 ---
Our office is a stone's throw from where Camille Pissarro painted 'The Avenue, Sydenham' (now Lawrie Park Avenue) in 1871 during his exile from Paris during the Franco-Prussian War
Brainstorm Systems Ltd is the operating company for Bizz Internet, Bizzy Domains and QwikSites Webdesign.
Founded in 1993 Brainstorm was one of the first pure internet companies. We produced our first website in 1994 and by 1995 were selling IT equipment online and connecting businesses to the internet. Rather than expand with the crowd that led to the net 'bubble' bursting in 2000 Brainstorm focussed on delivering profitable solutions to small and medium sized businesses.
---
Our Directors
Diana Case
Diana began her career as a Nightingale nurse at St Thomas' Hospital before going on to graduate as a Sociologist and take a Masters in Social Research. This research introduced Diana to using IT for statistical analysis and becoming a lecturer at City University and later Principal Lecturer at London South Bank University.
Stuart Grove
Stuart graduated as a mathematician with masters degrees in both Operational Research and Education and is also Fellow of the Royal Statistical Society. His early career centred on the application of online business modelling and the application of computer graphics for manipulating management data. In the 1980's Stuart was ICL(UK)'s PC product marketing manager and went on to become the Strategic Pricing Manager for the entire product range. Stuart was co-founder of BrainStorm in 1993.
---
Our Service Guarantee
We work on trust with an aim to exceed your expectations. We are so confident of this that we offer our 'No satisfaction, no charge' guarantee. That is if you don't like our invoice for any reason – don't pay it. We will not chase except for any charge we made on behalf of a third party for which we can show proof.
This is designed to keep us on our toes and give you confidence that you will always get value for money without risk.
If you should feel unhappy for any reason let us know asap. Email us using our usual email account. If you can't locate that use the one below. We will:
Respond within two (usually one) working day with a solution or, if that is not possible a reason and a date for a fix
If we cannot fix we will offer you an alternative solution by us or recommend an alternative supplier
If you decide to leave us we will, without question, transfer domains and any relevant code on your instruction
We will do this as fast as practical within two (usually one) working day unless you require more time (up to a maximum of four weeks)