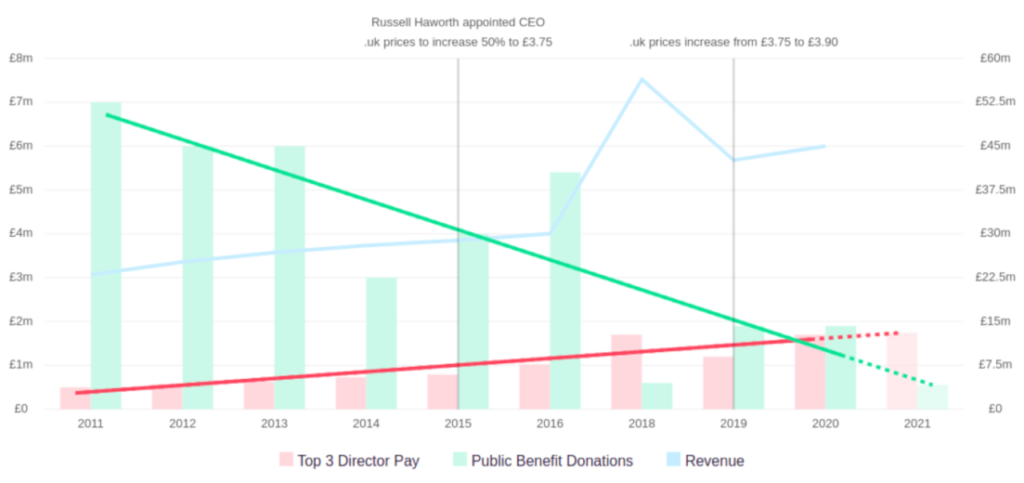 We will be voting to oust the excutive directors at the upcming Nominet EGM on Monday 22nd March 2021.
You may have noticed we have had to increase our domain charges for your .uk domains. That's not due to us. It's the 60% increase in fees imposed by Nominet. We are an accredited Nominet registrar. We are members of Nominet. Nominet is supposed to serve its members and all registrants.
They are not. The graph above shows what's happened there:
Thtat's right. Despite the higher charges and the controversial release of the .uk domain to blackmail many .co.uk owners to protect their business name – Nominet (as a non-for-profit company) have drastically cut the excess which went to public benefit.
Where has the money gone? As you can see the Directors have rewarded themselves royally. So what have they done to deserve that?
Well much of the missing money has been put into non-core investments. This isn't the purpose of the company. But if it makes a profit. But it doesn't. Quite the opposite.
What has happened is certain individuals have taken effective control of the company. When their actions were questioned they simply shutdown the voice of the members. The members are now seeking to take back control. We have called an EGM to put the company into good, more experienced hands who will return Nominet to its original purpose.
The Directors under fire have reacted by trying to rig the election in the most outrageous way. We hope to prevail for the benefit of the UK internet community.
Go here to learn about the campaign to take back Nominet: https://publicbenefit.uk
Nominet: a scandal that has to stop